Acoustic panels with stress relieving motives for a better environment in hospitals and nursing homes
Studies show, that unwanted sound can increase patients heart rates, blood pressure and breathing. At Sonovision we can help fight poor acoustics with sound absorbing pictures with stress relieving motives.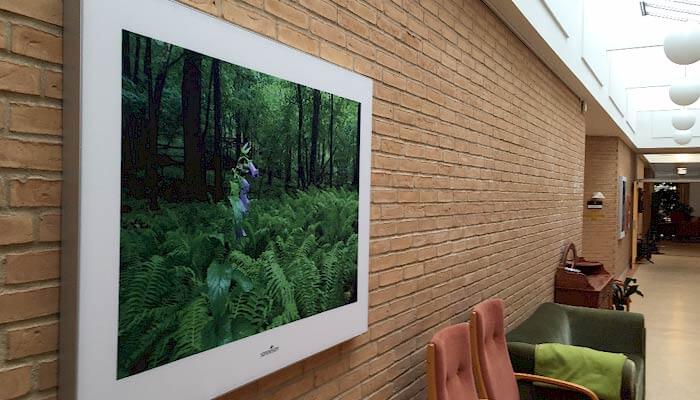 Stress relieving pictures on acoustic panels contribute to a pleasant environment
At Sonovision we combine our evidence based stress relieving pictures with acoustic-regulation by transferring the pictures with positive distractions to "silent" and washable materials with a new revolutionary technique.
Sound absorbers with high noise reducing factor.
Beautiful imaging – Stress relieving motives selected on evidence-based criteria.
Pictures printed on interchangeable and machine washable fabric, which also can be cleaned with alcohol.
No reflexes from the image surface.
Elegant framing.
Good acoustics decreases irritation and stress in patients, relatives and staff
When sound becomes noise, patients, staff and relatives in hospitals experience irritation and stress. A wide range of scientific studies documents, how negatively we are affected by poor acoustics. It has been proven, that unwanted sound can increase patients heart rate, blood pressure and breathing. Sound absorbing pictures can be a part of countering this problem.
Sound absorbing pictures – we will help select suitable motives
In principle we can transfer any digital photo to our silent acoustic panels. It simply requires, that the photo is of a good quality and has a high resolution. We will find suitable imagery, that compliments the room, where the acoustic pictures are going to hang. We would particularly be able to help in the choosing of pictures, that has a relaxing effect in healthcare centres, hospitals, clinics and hospices, where the pictures can help patients, residents and others impart wellbeing, relief, positive thoughts and emotions.
Sonovisions acoustic panels are washable
Sonovisions silent image area can be wiped of with a wet cloth or alcohol. The fabric can be removed from its frame and be washed in a washing machine many times, without the image quality being reduced and without the fabric going out of shape.
Evidence-based art
Sonovision has initiated more research projects about hospital patients choosing of art. Our images are selected by evidence-based art criteria for hospital environments.
Contact us, phone number: +45 70 25 55 52 to chat about the possibilities